Today's Back to School post is another bulletin board idea for you teachers! If you're not a teacher, no worries, you could still use this cute and free owl template or scallop bunting template for parties or just fun decor.
Enjoy!
This is actually my Welcome Back bulletin board from last year (photos were taken with my iphone so please excuse the not-so-great quality). I loved this idea so much I almost re-used it this year. There is so much owl stuff out there right now and I am crazy about it just like everyone else.
I made a little scrunched paper branch for the mama owl to sit on. After taking these pictures, I wrote my name (teacher's name) on the big owl and the kids' names on the smaller owls.
For the owls, I cut bodies out of fun patterned scrapbook paper, wings out of solid glittery scrapbook paper, the eye parts and nose out of card stock. I thought gluing the black circles of the eyes in different spots was funny-they kinda look lost like my kindergarteners usually are that first week of school-ha!
If you want to make your own owls, you can use my free
The only thing not included in the template is the small black circles for eyes which I just free-handed.
I also made a fun scalloped flag bunting for the bulletin board. I think a banner is the perfect fun detailed piece to make your bulletin board (or any party decor) stand out.
If you want to make a really easy banner, here ya go!
Materials Needed:
4 inch letters (can be found at any parent/teacher supply store)
scrapbook paper
thick ribbon
stapler
scissors
Use the template to trace onto and cut flag pieces out of scrapbook paper. Tape letters on toward the bottom of the scallop (or glue if you're not planning on re-using the letters). Lay out the flags how you want them, making sure that you are consistent with which side overlaps. Fold the ribbon over the flags and staple.
Leave enough on each end of the banner so you can make some type of bow.
For this one I made a loop by just tying a knot and hiding the end inside the knot.
But on my bulletin board for this year from my post yesterday I tied it in a bow.
I hope you enjoyed today's Back to School post!
Come back tomorrow for a great post from my wonderful kindergarten teacher friend!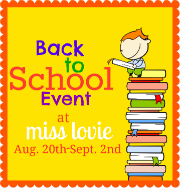 Check out the other Back to School projects here!