As my Back to School Event is nearing the end, I have one of my most favorite projects to share! I've had Back to School wreath ideas in my head for awhile, and I finally had the time to sit down and play around until I landed on something I loved.
When school time rolls around, the thing we all think of is school supplies, so I thought, why not put a whole bunch on a wreath?! I love those pencil wreaths and crayon wreaths out there, but I teach kindergarten and we use a lot more "stuff" than that! I wanted to included not only school supplies but the other things we use daily in our classroom. Any elementary teacher is familiar with lots of these: blocks, magnetic letters, dice, paint brushes, scissors, glue, play dough, connecting cubes, rulers, etc. I wanted a wreath that represented our day in kindergarten. I really wanted to fit a tiny book on there, but I ran out of room. Ha.
I added the chalk board and bunting for a little extra fun. The chalkboard's wooden border is covered in ribbon and rick rack. I wrote "Welcome" for the Back to School season, but I can change it throughout the year if I want. The bunting is just pinned on (it's a straw wreath form) so I could technically change it out if I wanted to.
I didn't take pictures for a tutorial for this, but it's super simple.
Wrap your wreath with strips of fabric, then hot glue a ton of "stuff on there. The end. Ha.

I wanted a layered effect so I started layering a couple of rulers on one side, then piled on the crayon box (which I glued the crayons inside the box so they would stay out), the play dough and my colored pencil bouquet (see below.)
Around the bottom of the wreath I didn't add as much because these little pieces looked so nice against the blue. The tip to give you when making this wreath is to use lots of glue. :) Hot glue will, of course, melt if you hang any wreath outside, though, so be sure to hang a wreath like this in the shade or inside (like on a classroom door!)
I secured the chalkboard with some velcro wrapped around the wreath since it was a little wobbly, but everything else is stuck on really well.
I hope you love it. It has definitely made my classroom door cheery. Even if you're not a teacher, it would be great to put on your front door when it's time for your kids to go back to school. Mr. Lovie was actually really sad I was taking it to school...he wanted to put it on our front door...(and we don't have kids)! Ha.

Happy Friday :)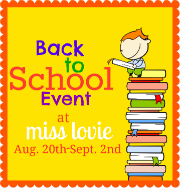 Go check out the other Back to School Events!
Go link up YOUR Back to School projects at my very first linky party ever! Any school-themed projects are welcome. I'll feature my favorites on Sunday!
And come back tomorrow for one more Back to School idea!