Today's guest post is Jill from
Kitchen Fun With My 3 Sons
. If you haven't visited her blog, go now, quick. She has the most fun ideas that she uses in her kitchen with her boys. SO fun. I found her blog awhile back and was hooked immediately. She is so creative and artistic. What she and her sons are able to make out of easy foods we all have is always amazing to me.
Enjoy!
----------------------------------------------------------------
My name is Jill and I have a blog called
Kitchen Fun With My 3 Sons
that I share with my 3 little boys. We created fun food mostly for kids and our blog is loaded with fun treats, breakfast, lunches, dinners, & silly snack ideas! We are excited to be sharing one of our fun Back to School snacks will all of you today. This is a simple and healthy School Bus Snack for the kids. My boys are not fans of fruit, but they will gobble up any fun fruit that we make!
Thanks to Allie for inviting us to be a part of her Back to School event!
Banana Bus
1 Banana
2 Dark Grapes (or Blueberries)
1 Strawberry
Black Edible Marker
Take the banana and cut off a little from the bottom so it will sit up straight. Draw a line in the middle of the side with your black edible marker. Take the cut off piece from the bottom and pop off the banana attached to the peel. Cut strips with a knife and then into small squares. Press the small square cut outs on the side for windows. Cut off the end of the banana. We used scraps to make a bumper. Cut off a small corner out of the front end. Set aside. Then cut more off almost to the bottom. Place the first cut out piece on top. Cut off the end of a strawberry for the stop sign. Everything will stick on. That's it!
---------------------------------------------------
So cute. And healthy, too! If that sweet little snack isn't enough motivation to go visit Jill, check out some of my favorite posts from
Kitchen Fun With My 3 Sons
!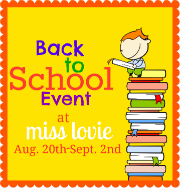 Check out the rest of the Back to School Projects
here
.
Come back tomorrow for a Back to School Link Party where you can link up your own Back to School ideas!