I'm so excited for today's guest blogger. Arianne of
Ketchen's Kindergarten
is a good friend of mine in real life-she teaches next door to me! She is an amazing teacher with tons of fun ideas on how to make our lives as teachers more organized (I love her dearly for this) and on how to make learning more fun for our little ones. I'm so lucky to get to teach with her everyday. She started a
teacher blog
last year and she shares the most fun (and helpful!) ideas on there. Even if you don't teach you could find lots of great ideas and printable games and activities to use at home for practice with your kids. She's a computer whiz and creates the best free printables. You've got to head on over to
her blog
and look around!
-----------------------------------------------------------------
Hi all! My name is Arianne - I'm from
Ketchen's Kindergarten!
I am absolutely delighted to be guest blogging at Miss Lovie. Allie and I are teammates - not only is she an awesome crafter/craft blogger, she's a fab Kinder teacher!
So I'll be honest (always best right?!?). Technically, I'm not all that crafty. I can't sew (much to my Momma's trying), don't always have a vision for crafty things and would much rather be creating on the computer! I am a digital person - and really really really (that last one is for good measure...haha) love creating on the computer. It sometimes gets a little out of hand (just ask Allie about my love of fonts!).
Back to School for me is a time of excitement, craziness and just in general being really busy! Even though it's cliche, my mind always goes to apples for back to school! I wanted to share some fun activities that you can do with any Kinder or preschool kiddo - apple themed of course!
Any little gadget makes learning more fun right? Enter the "Apple of my Eye" glasses. Have your little learner put them on when reading letters, making applesauce or pretending to be a cook at home!
After putting on your apple glasses, why not play a quick game of capital and lowercase letter matching? These types of games are really versatile - you can make it into a game of memory, a more physical game (run and find me the letter ___) or even use them as a guide to make some apple scented playdoh letters!
Grab a dice and some fun pompoms to play roll and cover! This simple game helps with number recognition, counting and is just plain fun!
Last but not least, add some apple fun to your home or classroom with this September banner! These are so easy to put together and add just the right amount of decoration to your space! Print, cut and tape it together. If your super crafty, there's a rumor that you could even sew fabric across the top…I wouldn't know anything about that (remember? This girl doesn't sew!!!).
Thanks so much for checking out this post! Allie's back to school event is in full swing – so be sure to come back all next week for more fun!
Click on any of the pics below to download any of the apple items featured above!
----------------------------------------------------------------
Thanks, Arianne! LOVE it. I kind of love apple ideas for the beginning of school even if it is cliche. There's so much you can do with that theme during the fall. If you loved this post, you'll love her blog. Here are some of my other favorites from
Ketchen's Kindergarten
:
Thanks, Arianne for sharing today! Cute, as always.
I hope you enjoyed today's Back to School post.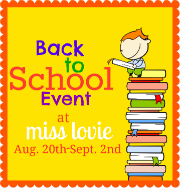 Check out all the Back to School ideas
here
.
And be sure to come back tomorrow for another fun guest post!