I'm so happy to be here for Miss Lovie's Anniversary! Doesn't time just fly by? Like this year, with Christmas! Didn't we just have Christmas last year? I swear every year it goes by quicker….and I hear it's not going to slow down. Anywho, I'm Susan from Living with Punks. I love to sew and craft, and I mostly do it for my punks. They are the light of my life (sometimes that light is so bright, I get a big fat headache…if you know what I mean ;) .
Today I thought I'd bring you some DIY Christmas Tree inspiration. The tree shape is the universal symbol for winter and Christmas. Just seeing them around makes me smile! I've made several versions of them over the years and I love all these that I've seen lately...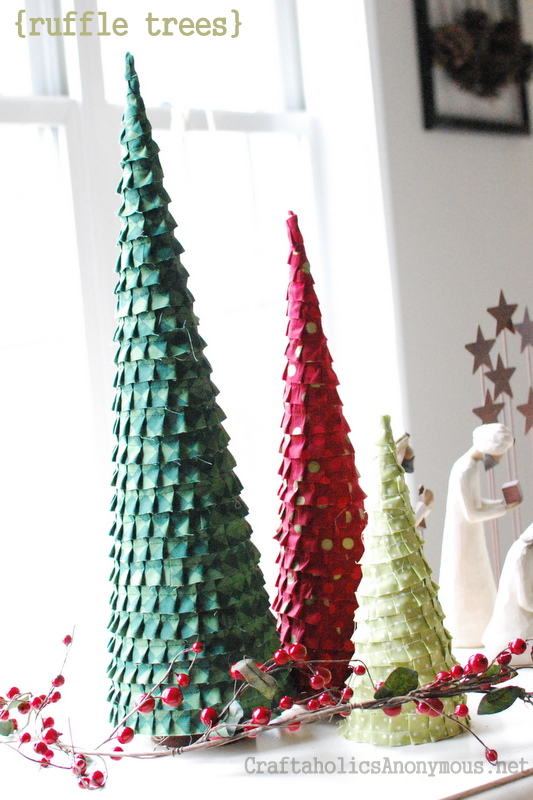 Inspired yet? I know I am! I want to make every one of these… and the awesome thing about all these trees is that they go with any décor! Just pick your color and go with it! Thanks so much for having me Allie! I'm off to make some trees :
)
--------------------------------------------------------------
Thanks so much for sharing, Susan!! I am so loving all the tree variations out there. Those vintage book trees are to die for. And the blingy ones of yours are so fun!
I'm sure you all know about Susan at Living with Punks, but if not you should go browse her blog immediately. She's got great holiday ideas including a New Years Glam Brooch, Salted Caramel Sauce, and these adorable Polka Dot Stockings. Some of my other favorite projects of hers are the Mondo Pom Pillow, Chrysi Pin, Land of Nod Floor Cushion. And these all come with tutorials!! :)
Don't forget to enter in these great giveaways. You still have a great chance to win on all of them!!
And be sure to check out the other guest posts from this week!