Well, I have finally finished the tutorial on this necklace!
I made it to wear to a wedding (couldn't exactly wear this while teaching kindergarten...ha!) and I LOVE how it turned out.
I hadn't made any jewelry in awhile and can't wait to get making more! But first, the tutorial for this one.
Here we go.
Now that you have everything you need, on to the fun part!
I am too impatient to measure most times, so when it isn't imperative, I don't. Sorry if you're super particular and need to know those details...I get too anxious to see the final project to "waste" time measuring. Occasionally, I'll make a petal too small/big, but it's ok-I just save it for another project. Once you have your petals placed on top of each other and they fit the way you want, you're done singeing and you have a beautiful flower!
CAREFUL when you singe your petals. Use tweezers to hold the smaller ones. Be sure to singe every part of the circle so it doesn't fray later and curls pretty all the way around.
My fabric was a little flimsy-one petal alone flopped over. I didn't want the flower being all droopy so I glued the petals together. I started with the first huge petal and used Liquid Stitch to glue the next one on top of it and so on.
Only glue in the middle and leave some room on the edges for the petals to move just a little. The glue will show through the fabric (if yours is as flimsy and see-through as mine was), but it's ok. Don't glue the very last petal on so it doesn't show through. Then just sew it on when you sew on your beads.
I used a crocheted lace trim. I didn't like the way it looked when it was tied in a bow at first so I glued a scrap piece of ivory satin ribbon I had to it with Liquid Stitch. (Let the glue dry thoroughly before you try to tie it in the bow.)
Once the glue is dry, tie it into a bow.
Close up of finished bow. For added security, it might be good to place a dot of hot glue inside the not on the bow so it doesn't come untied.
To make things easier, I use a bead board to lay out my design. Some people can imagine exactly what they want their design to be, I can't - I might have an idea, but I need to see it and play around with it for awhile to actually make it happen.
I wanted my flower to be down further than the bow so I placed it in the middle and then let my beads go on up past where it was on the other side when creating my design (the bow goes on the other side where the beads stop.) The bottom strand is about 17" long, the middle-16", the top-15". Those measurements are approximate and may change if you decide you want your necklace to be longer or shorter.
To be honest, (since I hate measuring), I get mine all strung and then hold it up to myself in a mirror to see where it will lay if I keep the strung beads that length. I may tweak it several times before I get it exactly how I want it.
For the bottom strand, I used 6 gold 10 mm pearls, then 5 contrast beads, then repeat. For the middle strand, I used the 10 mm pearls, and for the top strand, the 8 mm pearls.
Note: For the top part of the necklace (above the flower and above the bow), I decided to use a single strand of pearl chain that we'll make in a minute.
Once you have your beads how you want them, string them with the invisible cord one strand at a time. I leave a couple inches of invisible cord on each end so you have plenty to work with later. After beads are strung, I secure them with scotch tape. This prevents the beads from sliding off if you happen to drop one strand while you're working with another one, or whatever. Another good reason to use tape to temporarily secure your beads: if you want to change the design you can easily. I always make my string long enough so I can change the design around some, make it longer/shorter if I need to. Once all strands are taped, I can hold it up to myself and if I don't like it, I change it.
Once all your beads are strung, you need to attach them to the filigree flowers using your jumprings, crimp beads, and crimping tool :)
Repeat this step for each side of all your bead strands (one on each side of each strand-a total of 6 times.)
Once your jumprings are attached to your strung beads, open the jumprings using your flat nose and needle nose pliers. To do this, simply grasp the jumpring on both sides of where it opens with your pliers and pull apart. Slip jumpring into the filigree flower and use pliers to press the jumpring back together with pliers.
I spaced my strands apart enough so they would hang nice and flat and wouldn't overlap.
Set this part aside for now. We'll attach it to the fabric flower and bow later after the top pearl chain is connected to the filigree flowers as well.
The next part is a great jewelry making technique you will use for lots of projects: making a simple loop. You will make several of these and connect them to each other to make a pearl chain. Essentially, you are making the same loop that you see on the bottom of the eyepins above the pearl also.
Now you make several of these. I ended up making 23, 16 for the flower side, and 9 for the bow side. This may change depending on how long you want to make your necklace or how big your pearls are. Again, I just held it up to myself and added or took some away until I had my desired length.
To connect them, simply open a loop on one side and slip a loop of the next pearl onto it, then close the loop again.
Once your pearl chain is done, you attach it to the filigree flowers. Instead of using jumprings this time, you can just use the same connecting method described above to connect them to the top of your filigree flower pieces. One pearl chain attaches to a filigree flower piece that will be glued to the top of the back of your fabric flower and the other pearl chain attaches to the top of the filigree flower piece you already have your bead strands attached to that will be glued to the back of your bow. (See pictures below for a better understanding of what I'm talking about).
After your jumprings are attached (not shown in picture above) you will use hot glue to glue the felt circles to both sides of your filigree flower. (The top and bottom of my filigree flower were snipped off with my wire cutters because they were going to stick out from under the bow.)
The back of the bow
Here's how they both look from the back
You're almost done!
This entire step could be optional since this necklace is definitely long enough to go over your head. You could just connect both sides of your pearl chain together and be done with it. I just think it adds a finished-looking touch.
Open a jumpring and attach it to your pearl chain and then slip on a clasp. Close the jumpring. Then attach a jumpring to the other side of your pearl chain and close that jumpring (not shown). The clasp will connect to the jumpring.
Here is what my clasp looked like!
OPTIONAL PART: I like to add a little chain to my jumpring so that i can wear my necklace longer if I want. I also attach a pearl to the end of the chain for added charm. :) Instead of using an eyepin here, I used a headpin with a ball on the bottom. If you don't have these, an eyepin would work fine. I created a wrapped loop for this pearl instead of a simple loop. It's created the same way as a simple loop is, except that when bending the wire to create the simple loop, instead of bending it directly above the pearl, bend it about a 1/2 inch up the headpin. Once the simple loop is created, instead of cutting the excess wire off, simply wrap it around the headpin below the loop to create this:
Step 9: Enjoy it! All that hard work paid off!
I finished it the morning of the wedding-just in time.
Here's an action shot for ya:
Hope you enjoyed the tutorial. Happy jewelry-making! I'd love to see yours if you make one. Email it to me!
Linking up to these parties!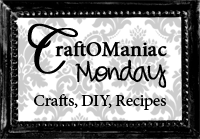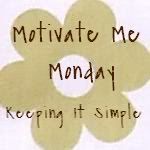 WOO HOO! This necklace was featured on Under the Table and Dreaming!