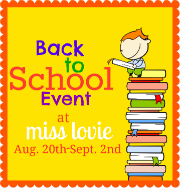 Well this Back to School Event has been so fun! I hope you love it as much as I did!
Here are the two wonderful projects linked up to the party:
This is so sweet. I've seen several Back to School Mantles and I just LOVE all the creativity in this one.
Anything with bows is great. Why not on pencil cases!
I love them both. I probably would have featured them both even if they hadn't been the only two linked up. This goes to show that not everyone needs to have a linky party on their blog. Ha.
If you missed any of the Back to School posts from the past couple weeks, you can find them here! Read on!