I hope everyone is enjoying their Memorial Day weekend! I know we are! These pictures are from Saturday when we went to a wedding.
I fell in love with that striped dress from Macy's when I bought it, but knew it needed another pop of color. That poppy was perfect!
(Sorry the pictures aren't too detailed. They were taken on Matt's phone)
The color of it is actually red orange, but it looked like a bright red, thus making my outfit quite patriotic. Perfect for this weekend, I guess.
To make the flower I used the
Grosgrain Poppy Tutorial
. I LOVE the way it turned out. It's pretty huge, but, of course, that's what I was going for. :) I actually didn't even use the biggest flower template she says to use in her tutorial. I simply left those out.
I wanted the center of my flower to be gold since there was gold on my shoes and I was planning on gold earrings So I did not use her method of making the center of the flower. Instead, I bought some gold trim and knotted it up to make the center and simply hot glued it on.
There is also an alligator clip glued to the back so I can attach the pin to a belt, too. That trick has been my favorite thing to do these days.
Linking
here
and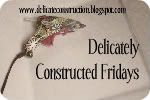 Today I'm working on a banner for kindergarten graduation. Wish me luck so I can actually get it finished by tomorrow!!